Difference in installation method
1) Install the cable with compressed air from the equipment.
2) No cable is installed physically, and no core disconnection occurs.
Lightweight
1) It is light and thin and is suitable for pneumatic installation.
2) It is easier to handle than conventional cables.
Scalability
1) It is possible to install in several ducts because cable outer diameter is small.
2) It can be used with existing cables.
Conventional
Division
Air Blown Solution
6~8 Person
Required
number of people
2~3 Person
250m
Maximum
installation distance
2,000m
1~10m/min
Speed
60~100m/min
Men-Power
Installation method
Air Blowing
Advantages of Micro Cable
It is a type of cable that has 2~12 cores with 1.2mm ~ 1.6mm of outer diameter and also can be installed in microduct by air blowing method. there are two types of outer sheath. one has outer sheath attached with beads (EPFU Type), and the other has smooth sheath (EPSU Type)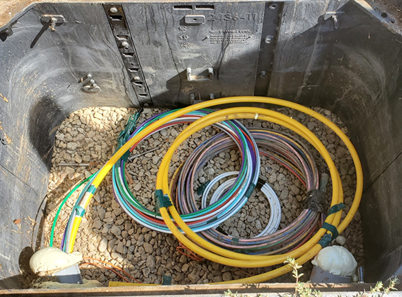 Smaller Ducts & Handholes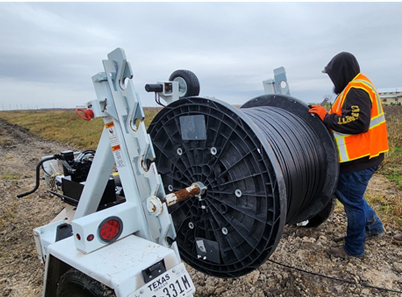 Smaller Reels
(or more cable on a standard reel)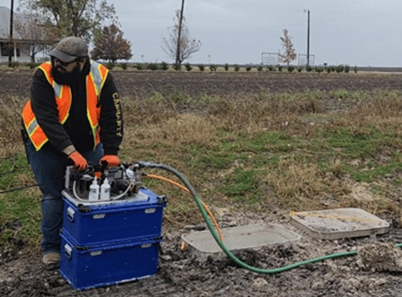 Designed for the blowing
Recommended Tube Size
Select the proper size of microduct by using the Microduct Selection Guidelines table
Fiber
250㎛, G652D/G657A1
200㎛, G657A1
Fiber Count
Up to 72
96~216
288
Up to 96
144
288
Cable Diameter
5.8±0.2mm
6.5~8.0±0.2mm
10.2±0.2mm
5.1~6.0±0.2mm
6.4±0.2mm
7.9±0.2mm
Tube Size (ID)
8mm
10mm
12mm
8mm
10mm
10mm